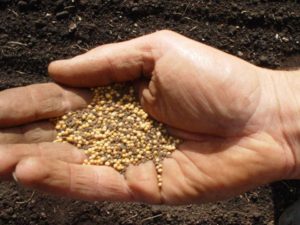 Want to have a community concert and invite your neighbors?
Want to send neighborhood kids to Camp Mennoscah, then invite them to Wednesday night Kids Club to learn more about Jesus?
Maybe you have other ideas about how to connect with neighbors and friends, but the church budget is tight.
An offering was received at the WDC Annual Assembly in July 2018, part of which is now being offered as "Mustard Seed" grants to WDC congregations who have great ideas for how to share the good news of Jesus in new and creative ways, but no seed money.  Several grants of $250 each will be awarded, until funds are exhausted.
Read all about Mustard Seed grants below …and then use the online application form (also below) to apply.  It's quick. It's simple, but there are a few criteria.  Resource Commission would love to see and support your ideas for creative evangelism in your area!
Like a mustard seed, maybe a tiny idea will sprout into something bigger than we can imagine with the Holy Spirit's tending. So, pray, plan, and apply!
---
Mustard Seed Grants
Offered by the Western District Conference Resource Commission
And if someone asks about your hope as a believer, always be ready to explain it.16 But do this in a gentle and respectful way. 1 Peter 3:15b-16a
As followers of Jesus, we are called to share the good news of God's mercy and love to those around us. As we seek to form meaningful relationships with those around us and intentionally live in the way of Jesus, we also need to be prepared to share our authentic story of God's work in our lives.
Therefore, the Western District Resource Commission is offering Mustard Seed Grants for up to $250 to WDC congregations who are seeking to help resource their congregational members with ideas and tools to share the good news. The Mustard Seed Grants are made possible with monies from the WDC Annual Assembly 2018 offering and Vision 2012 funds. The hope is that these grants will empower congregations to examine ways to link good news and good works together in a way that is authentically Anabaptist. Grants will be available until money is gone. The grants are available from Aug 1, 2018 through January 31, 2020.
Goals of "Year of Evangelism:  Anabaptist Witness!"
Encourage congregations to grow in willingness and capacity to share the good news of God's kingdom breaking into the world through Jesus
Equip congregations and individuals with practical tools for sharing the gospel
Reclaim an authentic Anabaptist-Mennonite vocabulary and practice of evangelism
Renew our reliance on prayer as the energizing force for sharing the good news
Criteria for the Mustard Seed Grant include:
a multi-generational component
an identifiable evangelism component
an identifiable connection to the surrounding community
a way to build relationships with fellow church members as well as the broader community
providing a service that is not currently being met in the congregation or community
congregational buy-in to the program (matching fund/sweat equity)
applicants must be from a WDC congregation
if awarded grant, a short report about the impact this has made on your congregation and community will be shared with WDC
Some possible ideas include:
books/speakers/other resources for equipping members of congregation
send church leaders to WDC Evangelism training events
send community children to Camp Mennoscah and implement follow-up meetings/activities with participants
mentor programs
a community-wide movie night or music concert
a music camp or a peace camp for community children 
TO APPLY:  Just fill out and submit the online form below!  Grants will be considered and awarded by members of the Western District Conference Resource Commission.
Projects must be implemented by June 30, 2020.
Blessings as you ponder ways to embolden individuals to share the good news so that God's healing and hope may flow through you and out into the world.
The Western District Resource Commission,  August 2018
---
Becas "Semillas de Mostaza"
¿Quieren realizar un concierto comunitario e invitar a sus vecinos?
¿Quieren enviar a los chicos del vecindario a Camp Mennoscah? Entonces invítenlos a asistir al Club de Niños del miércoles de noche para que aprendan más sobre Jesús.
Tal vez tienen otras ideas sobre cómo conectarse con los vecinos y amigos, pero el presupuesto de la iglesia es mínimo.
Se recibió una ofrenda en la Asamblea Anual de WDC en julio de 2018. La Comisión de Recursos de WDC combinó estos fondos y ahora tiene algo de dinero para ofrecer a las congregaciones del Distrito Oeste que tienen grandes ideas sobre cómo compartir las buenas nuevas de Jesús de maneras nuevas y creativas, pero no hay dinero inicial.  Se otorgarán varias becas de $250 cada una.
Lean acerca de las Becas Semilla de Mostaza aquí debajo… y luego usen el formulario de inscripción (también debajo) para solicitarlas.  Es rápido. Es simple, pero hay unos cuantos criterios.  ¡La Comisión de Recursos quisiera conocer y apoyar sus ideas en cuanto a la evangelización creativa en su área!
Como una semilla de mostaza, tal vez una pequeña idea brotará para llegar a ser algo más grande de lo que podemos imaginar, con el Espíritu Santo guiándonos.  Así que, ¡oren, planeen y hagan la solicitud!
Becas Semillas de Mostaza
Ofrecida por la Comisión de Recursos de Western District Conference
Si alguien les pregunta acerca de la esperanza que tienen como creyentes, estén siempre preparados para dar una explicación; pero háganlo con humildad y respeto. 1 Pedro 3:15b-16a 
Como seguidores de Jesús, estamos llamados a compartir las buenas nuevas de la misericordia y amor de Dios con quienes nos rodean. Si procuramos formar relacionamientos significativos con la vecindad y vivimos intencionalmente a la manera de Jesús, también tenemos que estar preparados para compartir nuestra auténtica historia de lo que Dios hizo en nuestras vidas.
Por lo tanto, la Comisión de Recursos de Western District ofrece Becas Semilla de Mostaza de hasta $250 dólares a congregaciones de WDC que están tratando de ayudar a los miembros de sus congregaciones con ideas e instrumentos para compartir las buenas nuevas. Las Subvenciones de Semillas de Mostaza son posibles con dinero de la Asamblea Anual WDC 2018 que ofrece y se combina con los fondos de Vision 2012.   Esperamos que estas becas empoderen a las congregaciones para explorar maneras de relacionar buenas nuevas con buenas obras de una forma que sea auténticamente Anabautista.  Las becas estarán disponibles hasta que el dinero se haya ido. Las subvenciones están disponibles desde el 1 de agosto de 2018 al 31 de enero de 2020.
Metas para el "Año de la Evangelización: Testimonio Anabautista!"
Alentar a las congregaciones a crecer en su disposición y capacidad para compartir las buenas nuevas del reino de Dios que irrumpen en el mundo a través de Jesús.
Equipar a las congregaciones e individuos con herramientas prácticas para compartir el evangelio.
Reclamar un vocabulario y práctica de evangelización auténticamente Anabautista´Menonitas.
Renovar nuestra confianza y dependencia en la oración como la fuerza energizadora para compartir las buenas nuevas.
Los criterios para obtener la Beca Semilla de Mostaza son los siguientes:
Un componente multi-generacional
Un componente evangelístico identificable
Una conexión identificable con la comunidad adyacente
Una manera de formar relaciones con miembros de iglesias hermanas y también con la comunidad más amplia.
Brindar un servicio que usualmente no se ofrece en la congregación o comunidad
Apoyo congregacional al programa (equidad en cuando a aporte de fondos y trabajo)
Los solicitantes deben pertenecer a una congregación de WDC
Si obtienen la beca, un breve informe acerca del impacto que ha tenido en su congregación y comunidad será compartido con WDC.
Entre otras ideas incluimos las siguientes:
Recursos en libros/oradores/otros para equipar a miembros de congregaciones
Enviar líderes de la iglesia a las actividades de entrenamiento en Evangelización de WDC
Enviar niños de la comunidad a Camp Mennoscah y planear actividades y reuniones de seguimiento con los participantes.
Programas de mentoreo
Una noche de concierto musical o de cine para toda la comunidad
Un campamento de música o de paz para niños de la comunidad
PARA PARTICIPAR: Simplemente llene y envíe el formulario online que es encuentra abajo!  Las becas serán estudiadas y concedidas por miembros de la Comisión de Recursos de Western District Conference. Los proyectos deben implementarse antes del 30 de junio de 2020.
Bendiciones para ustedes en su búsqueda de maneras de involucrar a individuos para compartir las buenas nuevas, a fin de que la esperanza y sanidad de Dios puedan fluir a través de ustedes y hacia el mundo.
La Comisión de Recursos de Western District, Augusto de 2018
---
---