Peak into the library by watching this video!
---
This Summer 2023…
Instead of a traditional Summer Story Hour, the WDC Conference Resource Library will be hosting Story Days with a self-guided, come-and-go approach with activities for ages 3-8 and their caregiver(s) on June 15, July 20 & August 3 from 9:00am-7:30pm. Read alouds by library staff/volunteers on the hour from 9am-7pm. The WDC Resource Library is located at 2517 N Main in North Newton.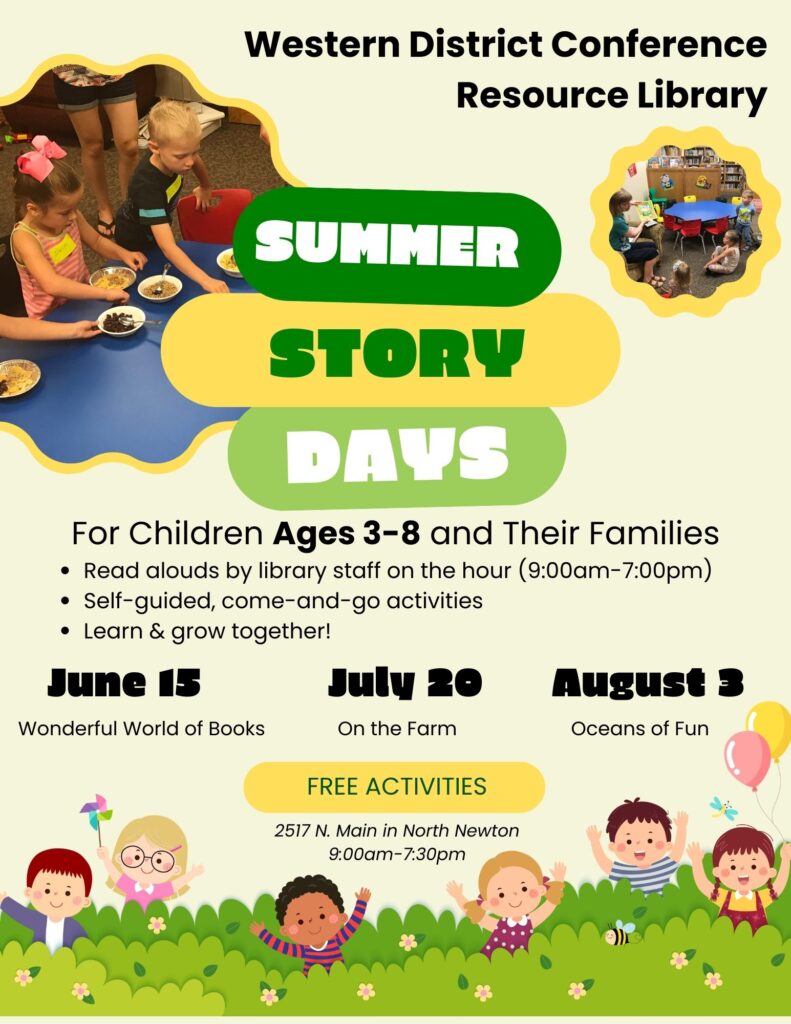 ---
A Gift for You–The WDC Resource Library summer reading program for all ages includes a gift for you. Stop by the library from May 30-August 10 to pick out a wrapped package and a response sheet or request one be mailed to you. The book/DVD/resource inside is yours to keep. Fill out a response sheet and return to the library for a ticket into the prize drawing (gift cards for teens/adults and a prize bag for kids). The WDC Resource Library is located at 2517 N Main in North Newton. For questions and mailing requests, email crlib@mennowdc.org
---
The Conference Resource Library…
Is staffed by Jennie Wintermote, Library Director. Her part-time hours vary; just email your requests to Jennie at: crlib@mennowdc.org, and she'll have materials ready when you come. Other Western District Conference staff can assist you when Jennie is not here, though she knows best what is available!
Provides resources in a variety of formats: books, DVDs, curriculum, periodicals and anthems. Note: To search the DVD collection in the Online Catalog, click the "Visual Tab", then on the material "Type". Select DVD. You will be able to read description, running time, session titles and more. A separate DVD/Video catalog is no longer published.
Provides access to StudyGateway.com, a streaming service with thousands of videos for children, youth, and adults to learn and grow in faith. Contact Jennie at crlib@mennowdc.org for log in information.
Offers the "Box of Books" program which provides bulk loans to churches for a two month period.
Hosts a summer Story Hour for children ages 3-8 of area Mennonite churches.
Offers multiple copies of books for group studies in Sunday school classes, small groups, Wednesday night groups, etc. through the Book Bundle for Group Study program.
Runs a Summer Reading Program for children and adults.
Has an on-line catalog of over 12,000 holdings.
Has helpful Library Resources.
Features the Music Lending Library that consists of multiple copies of 450 anthems for church choirs or small musical groups. A keyboard is available for use in the library or to borrow.
Is the oldest and largest Mennonite Resource Center in the United States. It began as a vision of the Western District Education Committee in 1936 and was previously located on the Bethel College campus. The Library is now located at 2517 North Main, North Newton, KS. Complete with a lounge, it is a perfect setting to read, study, meet friends, and see what's new!
Includes a Texas branch of Spanish-language materials designed to help pastors and other leaders in their congregational contexts.
Is funded by Western District Conference and donations by individuals. Other congregations who wish to use library resources may do so by paying a $1 per regular attendee annual feel (minimum $100).
Individuals (non WDC) may access library materials by paying a $30/year membership fee.
Has a new and improved app! Download the Librista app for Android and Apple Devices to view items out, renew and request items. Contact the library for assistance!