Ways you can partner with Western District's ministry:  The success of the WDC budget depends on our church's support. Contributions from member congregations make the services and programs of Western District Conference possible. If our congregations would contribute $50 per member or $100 per attendee, our delegate-adopted budget would be fully funded. We understand that this is not possible for some congregations; however, we have many congregations that can and do give more as mutual aid for their sister congregations. We commend those congregations who have dramatically increased their giving to WDC. This mutual aid guarantees that we can provide services to all our congregations and we all benefit from these connections.
When congregations keep the Western District Conference line item the same year after year, it means a gradual reduction in the services we can offer due to inflation. We have reduced staffing and have been creative in providing services through grants, consultants, volunteers, and part-time employees. We will continue to be diligent in stretching our revenues to provide strong support to our pastors and congregations.
We are committed to serving our churches and pursuing God's redeeming mission in the world.
---
Mennonite Church USA – Confession of Faith
---
Mennonite Church USA – Ministerial Sexual Misconduct Policy and Procedure
---
Mennonite Church USA – Pastor Salary Guidelines
---
Mennonite Church USA – Agreeing and Disagreeing in Love
---
Bethel College – Mennonite Library and Archives
---
WDC Guidelines for Pastor and Congregation Review
---
WDC Procedure regarding ministers officiating same-sex weddings
---
WDC Sample Litanies for churches
---
Pastor Compensation Software
Pastoral Review Software
Twenty Pastoral Areas Software
Many Gifts Software
---
This Bible study was written by Carol Duerksen and designed to share Jesus' message as found in Gospel of Luke.
---
Detectives of Divinity Bible Curriculum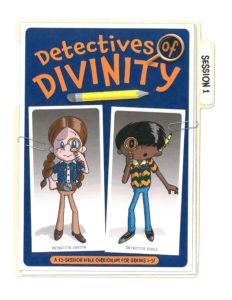 The development of this 13-session curriculum for grades 1-5 was sponsored by the WDC Resource Commission, and developed by Western District teachers, artists, and business people (who created a non-profit called "Springs Forth!").  The materials grow out of and reflect our Anabaptist understanding of the Scriptures, and the values are based on the life and teachings of Jesus.  A review copy of this curriculum is available in the WDC Resource Library!
---