*Pictured: Several Assembly attendees pose for a picture together.
One of the things I appreciate most about the WDC Annual Assembly is the opportunity for members of different WDC congregations to encounter each other, whether through worship, work, fellowship or learning together. Assembly is an occasion to move beyond our local church context, learn about other congregations, share in common work, and build relationships.
Often, these encounters at Assembly are joyous reunions that strengthen ongoing friendships. Connecting with others may also be difficult because of differences in language, theology, personality or cultural context. Or participants may feel uncertain about interacting with others because of past hurts, conflicts or disappointment in the church. My hope is that as we listen carefully and respectfully to each other, we will each sense that our presence is valued, that we have something to contribute to the work of the church, and that we have something to learn from others in the wider church.
"Listening" was the theme of WDC's recent Annual Assembly, August 11-13 at Tabor Mennonite Church, reflecting prophetic words from Isaiah 51: "Listen to me, you that pursue righteousness, you that seek the Lord… Listen to me, my people, and give heed to me… Listen to me, you who know righteousness, you people who have my teaching in your hearts…"
Assembly provided many rich opportunities to listen in new and deeper ways!
In the Friday evening worship service, we heard Biblical names that are not very familiar to many of us: Mahlah, Noah, Hoglah, Milcah and Tirzah, five sisters who defied tradition to request the inheritance of land following the death of their father Zelophehad. In his sermon, pastor Nathan Koontz from Bethel College Mennonite Church preached on this account from Numbers 27:1-11, highlighting how God speaks through the stories of those who have been silenced or marginalized by the dominant culture, such as women, members of the LGBTQ community and persons of color.
On Sunday morning, we heard about Pentecost in Acts 2, where the good news was spoken and understood in many different languages and voices, giving birth to the early church. Preacher Jes Stoltzfus Buller from Mennonite Central Committee noted that in today's world, we tend to listen only to others who are the same as us, and to yell at or ignore those with whom we disagree. We may assume God is present only in our sameness. Instead, Jes said, when we fully listen to one another across our differences, we open space in which the Spirit of God can transform us.
Intergenerational faith formation activities and workshops at Assembly expanded our capacity to listen and lead in the midst of our differences. Featured topics included intergenerational faith formation, active/assertive listening, anti-racism, practices and principles for effective church boards, women in church leadership, creating relationships and understanding in Gaza, healthy conflict transformation amid polarization, and an introduction to WDC's Listening Process.
Finally, the simple act of gathering together provided hundreds of opportunities to listen to one another. Assembly participants represented over 35 of WDC's 54 congregations, joining in-person or virtually from Nebraska, Kansas, Oklahoma, Texas and Guatemala. Spanish / English interpretation and translation helped to bridge language differences. 78 delegates (in-person and virtual) met for business sessions (see minutes posted here: https://mennowdc.org/wp-content/uploads/2023/08/2023-Annual-Assembly-Minutes-Booklet-PDF.pdf ), and over 60 additional adults, children and youth joined in to attend other activities. Guests and institutional representatives enriched our time together, and additional members of the local community came to enjoy the Saturday evening barbecue and music festival.
It has been good to join together in this way as a wider church body. In the coming year, may the resources and relationships we have experienced at Annual Assembly continue to strengthen us for the holy work of listening to God and one another.
The next WDC Annual Assembly will be August 2-4, 2024 at First Mennonite Church in Beatrice, NE!
-Heidi Regier Kreider, WDC Conference Minister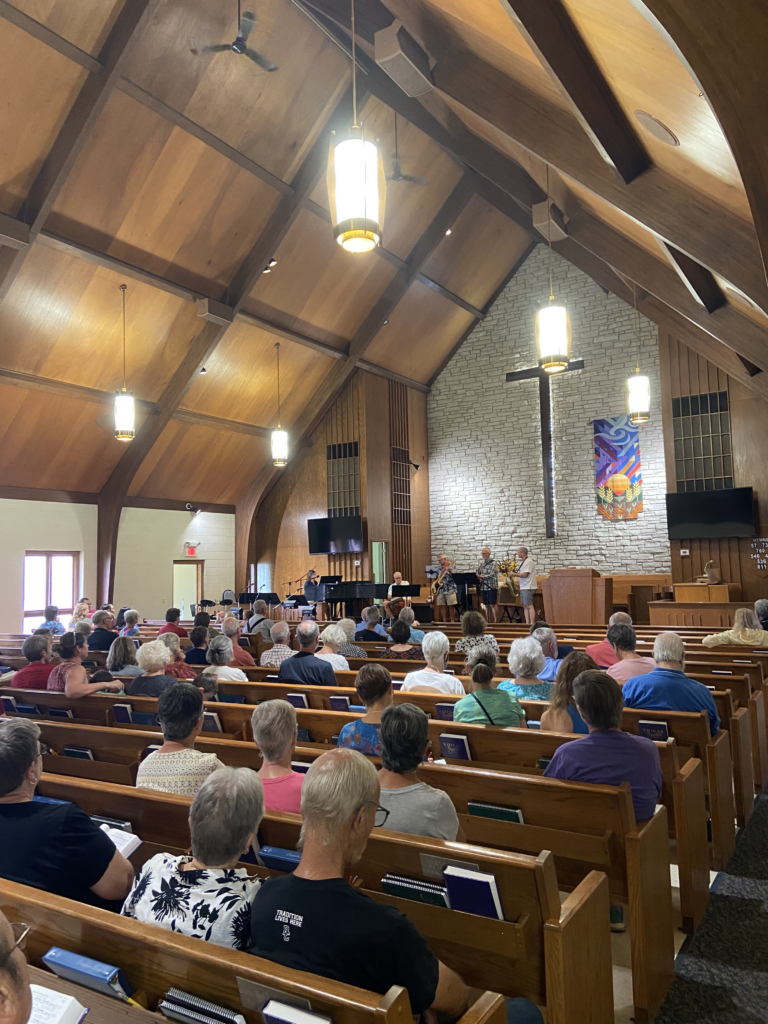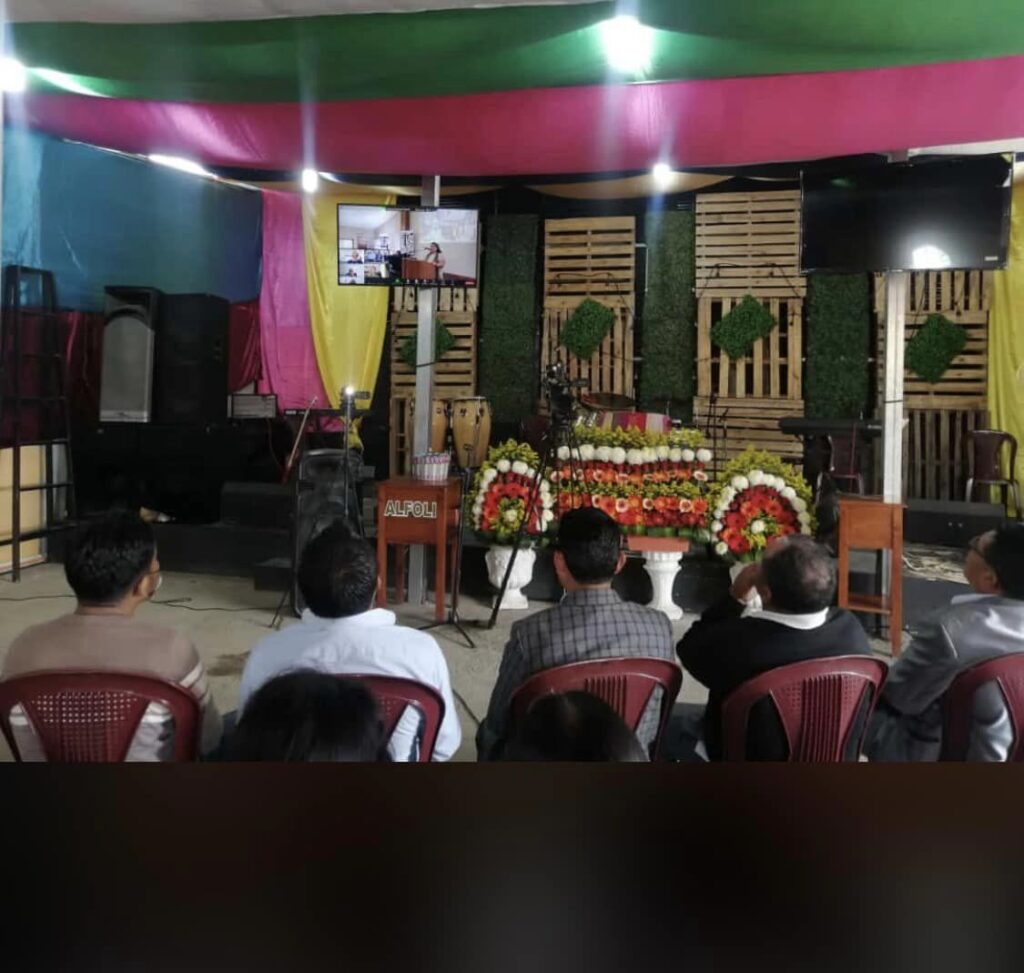 Reflexiones de la Asamblea Anual
Una de las cosas que más aprecio de la Asamblea Anual de WDC es la oportunidad de que los miembros de diferentes congregaciones de WDC se encuentren, ya sea a través de la adoración, el trabajo, el compañerismo o el aprendizaje juntos. La asamblea es una ocasión para ir más allá del contexto de nuestra iglesia local, aprender sobre otras congregaciones, compartir el trabajo común y construir relaciones.
A menudo, estos encuentros en la Asamblea son reuniones alegres que fortalecen las amistades en curso. Conectarse con otros también puede ser difícil debido a las diferencias en el idioma, la teología, la personalidad o el contexto cultural. O los participantes pueden sentirse inseguros acerca de interactuar con otros debido a heridas pasadas, conflictos o decepciones en la iglesia. Mi esperanza es que al escucharnos atenta y respetuosamente unos a otros, cada uno de nosotros sentirá que nuestra presencia es valorada, que tenemos algo que contribuir a la obra de la iglesia y que tenemos algo que aprender de otros en la iglesia en general.
"Escuchar" fue el tema de la reciente Asamblea Anual de WDC, del 11 al 13 de agosto en la Iglesia Tabor Mennonite, reflejando palabras proféticas de Isaías 51: " Escúchenme, ustedes que buscan la justicia, ustedes que buscan al Señor … Escúchame, mi pueblo, y hazme caso… Escúchenme, ustedes que conocen la justicia, ustedes que tienen mi enseñanza en sus corazones…"
¡La asamblea proporcionó muchas oportunidades ricas para escuchar de maneras nuevas y más profundas!
En el servicio de adoración del viernes por la noche, escuchamos nombres bíblicos que no son muy familiares para muchos de nosotros: Maala, Noa, Hogla, Milca y Tirsa, cinco hermanas que desafiaron la tradición para solicitar la herencia de la tierra después de la muerte de su padre Zelofehad. En su sermón, el pastor Nathan Koontz de la Iglesia Bethel College Mennonite predicó sobre este tema de Números 27: 1-11, destacando cómo Dios habla a través de las historias de aquellos que han sido silenciados o marginados por la cultura dominante, como las mujeres, los miembros de la comunidad LGBTQ y las personas de color.
El domingo por la mañana, escuchamos sobre Pentecostés en Hechos 2, donde las buenas nuevas fueron habladas y entendidas en muchos idiomas y voces diferentes, dando origen a la iglesia primitiva. La predicadora Jes Stoltzfus Buller, del Comité Central Menonita, señaló que, en el mundo de hoy, tendemos a escuchar solo a otros que son iguales a nosotros, y a gritar o ignorar a aquellos con quienes no estamos de acuerdo. Podemos asumir que Dios está presente sólo en los que se asemejan a nosotros. En cambio, Jes dijo, cuando nos escuchamos plenamente unos a otros a través de nuestras diferencias, abrimos un espacio en el que el Espíritu de Dios puede transformarnos.
Las actividades y talleres de formación de fe intergeneracional en la Asamblea ampliaron nuestra capacidad de escuchar y liderar en medio de nuestras diferencias. Los temas destacados incluyeron formación de fe intergeneracional, escucha activa / asertiva, antirracismo, prácticas y principios para juntas eclesiásticas efectivas, mujeres en el liderazgo de la iglesia, creación de relaciones y comprensión en Gaza, transformación saludable del conflicto en medio de la polarización y una introducción al Proceso de escucha de WDC.
Finalmente, el simple acto de reunirse proporcionó cientos de oportunidades para escucharnos unos ala otros. Los participantes de la Asamblea representaron a más de 35 de las 54 congregaciones de WDC, uniéndose en persona o virtualmente desde Nebraska, Kansas, Oklahoma, Texas y Guatemala. La interpretación y traducción al español / inglés ayudó a construir puentes para superar las diferencias lingüísticas. 78 delegados (presenciales y virtuales) se reunieron para sesiones de negocios (ver actas publicadas aquí: https://mennowdc.org/wp-content/uploads/2023/08/2023-Annual-Assembly-Minutes-Booklet-PDF.pdf, y más de 60 adultos, niños y jóvenes adicionales se unieron para asistir a otras actividades. Los invitados y representantes de institucionales enriquecieron nuestro tiempo juntos, y miembros adicionales de la comunidad local vinieron a disfrutar de la barbacoa del sábado por la noche y el festival de música.
Ha sido bueno unirse de esta manera como un cuerpo eclesiástico más amplio. En el próximo año, que los recursos y las relaciones que hemos experimentado en la Asamblea Anual continúen fortaleciéndonos para escuchar atentamente a Dios y a los demás.
¡La próxima Asamblea Anual de WDC será del 2 al 4 de agosto de 2024 en la Iglesia First Mennonite en Beatrice, NE!
-Heidi Regier Kreider, Ministra de la Conferencia del WDC