*Pictured: New WDC Church Plant: Iglesia Menonita Casa de Restauración, Houston, TX enjoying a weekly meeting and meal together.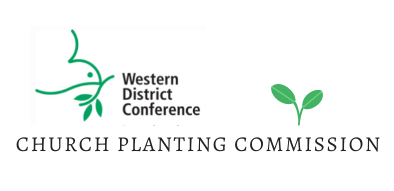 ---
Wondering how Western District Conference equips congregations and leaders for ministry and mission? This is the third in a series of monthly articles from the four WDC Commissions about the resources and support they offer. Contact WDC if you have more ideas or questions about what would be helpful for your congregation!
The mission of the WDC Church Planting Commission (CPC) is to provide leadership and resources for church planting initiatives and foster relationships with emerging Anabaptist groups interested in Western District Conference. We help these emerging groups and their leaders connect with congregations and resources of WDC.
We currently support two church plants: Palabra Viva in Liberal, KS and Casa de Restauración in Houston, TX. We recently developed a Strategic Plan for carrying out CPC's mission, and were awarded a full grant from the Schowalter Foundation to help implement this plan. One piece of this strategic plan is strengthening relationships between WDC congregations and church plants or emergent groups.
With the help of Nita Nikkel as church planting support, we are engaging WDC congregations in conversation with how to revitalize sister church relationships and imagine new emerging congregations in their communities. Our long-term goal is not only to support emerging congregations, but to encourage WDC congregations to develop a heart for paying attention to opportunities for engaging God's mission in their own congregation and communities.
As part of the CPC strategic plan, we aim to provide resources for WDC congregations in discipleship, and mission through forums and workshops to share church planting stories and resources.
CPC offered two Virtual Forums (Zoom) opportunities for WDC congregations and leaders to engage with church planting stories and resources. In En el Camino – Church Replanting, Tim Amor shares about the replanting journey of Summit Street Church, and in Sharing the Story, Tim Amor and Sandra Montes-Martinez explores how we can share our faith stories with our neighbors. We are also planning a Church Planting Mission Summit which will take place in San Antonio in March in order to share stories and resource church planters and mission partners.
Our hope is that we may form and strengthen new and existing communities of disciples called and sent by God to bear witness to Jesus Christ in the power of the Holy Spirit as we share of how we have known God's grace and love in our lives.
-WDC Church Planting Commission
---
Plantación de Iglesias – Ventanas a Nuestro Ministerio
¿Se pregunta cómo la Conferencia del Distrito Occidental equipa a las congregaciones y líderes para el ministerio y la misión? Este es el tercero de una serie de artículos mensuales de las cuatro comisiones de WDC sobre los recursos y el apoyo que ofrecen. ¡Comuníquese con WDC si tiene más ideas o preguntas sobre lo que sería útil para su congregación!
La misión de la Comisión de Plantación de Iglesias (CPC) de WDC es proporcionar liderazgo y recursos para iniciativas de plantación de iglesias y fomentar relaciones con grupos anabautistas emergentes interesados ​​en la Conferencia del Western District. Ayudamos a estos grupos emergentes y sus líderes a conectarse con congregaciones y recursos de WDC.
Actualmente apoyamos dos iglesias: Palabra Viva en Liberal, KS y Casa de Restauración en Houston, TX. Recientemente desarrollamos un Plan Estratégico para llevar a cabo la misión de CPC, y la Fundación Showalter nos otorgó una subvención completa para ayudar a implementar este plan. Una parte de este plan estratégico es fortalecer las relaciones entre las congregaciones de WDC y las nuevas iglesias o grupos emergentes.
Con la ayuda de Nita Nikkel como apoyo para la plantación de iglesias, estamos involucrando a las congregaciones de WDC en una conversación sobre cómo revitalizar las relaciones entre iglesias hermanas e imaginar nuevas congregaciones emergentes en sus comunidades. Nuestro objetivo a largo plazo no es solo apoyar a las congregaciones emergentes, sino animar a las congregaciones de WDC a desarrollar un espíritu para prestar atención a las oportunidades de comprometerse con la misión de Dios en su propia congregación y comunidades.
Como parte del plan estratégico de CPC, nuestro objetivo es proporcionar recursos para las congregaciones de WDC en discipulado y misión a través de foros y talleres para compartir historias y recursos de plantación de iglesias.
CPC ofreció dos foros virtuales (via Zoom) oportunidades para que las congregaciones y líderes de WDC participen en historias y recursos de plantación de iglesias. En el Camino – Replantación de Iglesias En el Camino – Church Replanting, Tim Amor comparte sobre el viaje de replantación de Summit Street Church, y en Compartiendo la Historia Sharing the Story, Tim Amor y Sandra Montes-Martínez exploran cómo podemos compartir nuestras historias de fe con nuestros vecinos. También estamos planeando una Cumbre de Misión de Plantación de Iglesias que tendrá lugar en San Antonio en marzo para compartir historias y recursos para plantadores de iglesias y socios misioneros.
Nuestra esperanza es que podamos formar y fortalecer comunidades nuevas y existentes de discípulos llamados y enviados por Dios para dar testimonio de Jesucristo en el poder del Espíritu Santo mientras compartimos cómo hemos conocido la gracia y el amor de Dios en nuestras vidas.
-Comisión de Plantación de Iglesias de WDC