*Pictured: Members of WDC Church Plant, Iglesia Menonita Casa de Restauración, Houston, TX, enjoy a meal together. / En la foto: Miembros de WDC Church Plant, Iglesia Menonita Casa de Restauración, Houston, TX, disfrutan de una comida juntos.
Church Planting is a unique opportunity that God put in our hands as a Conference to embrace, walk, and nourish the life of everyone involved. It's a journey of faith, hope, and lots of prayer for the road.
During our Annual Assembly, we were thrilled to share some exciting news with you – the birth of two new church plants! Iglesia Menonita Casa de Restauración in Houston Texas, and Iglesia Evangélica Menonita Arca de Salvación Uspantan, Guatemala.
As liaison for the Church Planting Commission (CPC) in WDC, I have the honor to serve our church plants walking along side pastors and church planters implementing the CPC Essential Procedure to develop a viable project. The journey of establishing a new community of faith began with a vision – a vision to share the Good News of salvation in the community where the new church will be established. This vision needs to be nurtured by a group of dedicated individuals who felt a calling to bring people together in faith and fellowship.
One of the defining characteristics of these emerging congregations is the commitment to follow Jesus and his teaching, revealing the love and grace of God in their practice as a church. It's not just a place for the devout; it's a space for everyone seeking refuge and restoration.
Let me give you a short overview of our new church plants.
Iglesia Menonita Casa de Restauración, Houston, TX
Slideshow of photos: https://www.youtube.com/watch?v=z9IGSxTSk8k&list=PL6aO7e884ZT7mYMLqLGrSlKWEOuJ5juHG&index=13
Is a Hispanic emerging community of faith that aims to establish vibrant, Jesus' center Anabaptist Christian communities in underserved areas in Houston TX. Their mission is to bring the transformative message of hope, love, and faith to individuals and families who are seeking spiritual connection and a sense of belonging. They are making disciples and sending them out to invite others to know the life-restoring power of God's love that they have experience themselves.
The Church Planter is Aurora Parchmont who works alongside her husband Alberto Parchmont co-pastoring one of our WDC church Casa del Alfarero in Pasadena TX.
Casa de Restauracion is responding to the growing need to give an Anabaptist home, a space, to many Latinos in their unique context and culture in one of the most populated cities in Texas.
God put in the hearts of a group of brothers and sisters the desire to explore the possibility of bringing together a remnant of Anabaptists who for geographical, language or cultural reasons have not found a place in another of our Mennonite churches in the area. That is how after a time of discernment and multiple conversation with WDC staff, CPC and partners congregations on April 4, 2022, this beautiful plant was born.
They are people with a heart of service and love, they participate in community activities and Biblical teachings, they are God's people, who serve with much love, food, and enthusiasm.
Despite the socioeconomic challenges of an immigrant community, they often see themselves with the opportunity to help other with financial needs, the size or number is not a limitation for them to assisted families in need to pay their rent, medications, or transportation, and more.
Iglesia Evangelica Menonita Arca de Salvacion Uspantan, Guatemala
Their mission is to establish a congregation that witness the love and care of God and culturally appropriate church community that will provide spiritual and theological support, and resources to the residents of Villa de Uspantan, Quiché, in the north-west of Guatemala.
Their primary focus will be to nurture an environment where individuals and families can deepen their faith, find solace, and actively contribute to the well-being of the local community, fostering mutual understanding, respect, and tolerance among different cultures.
This Church plant has been developed in conversation with local leaders from Arca de Salvacion, Iglesia Anabautista Casa de Paz, and the CPC who share a deep passion for spreading the message of faith and building a thriving community of believers.
Arca de Salvacion is a gift to us as a Conference. They started on November 4, 2021 and their founders are: Juan Jesús Toj, Diego Giovanni Carrillo Ixcotoyac, Julio Menchú, Felpe Chamatun, Rolando López, Francisco Hernández, Francisco Herrera, Yobani Ajcot, Salvador Méndez, Lucas Chipel. They now form the Church Council, represented by 12 elders and 2 pastors that give leadership to the church.
The new church started with 25 families and now there are 47 families. In the last year they celebrated 18 baptisms, they have youth, women, men, and flowers ministry, and a church building committee.
The congregation purchased land, and they have big plans to build a church temple and a community center where they can train leaders and serve community where they are establishing.
This is a collaboration from Casa de Paz, our WDC congregation in Guatemala, with the guidance of the Holy Spirit. Heidi and I meet with the leaders and congregation last summer during the Semilla learning tour in Guatemala when pastor Gilberto Flores introduce this vibrant church that he was providing mentorship and support for over a year.
We firmly believe that this church planting endeavor will have a transformative impact on the lives of individuals and contribute positively to the missional and cultural landscape of WDC. We are eager to encourage collaborations within the broader Conference to bring this Church Planting to fruition and make a lasting difference in the way we Witness, Dwell, and Connect in mission.
On behalf of the Church Planting Commission, I am presenting the new church plants of Arca de Salvacion Uspantan in Guatemala and Casa de Restauracion in Houston, TX, for your support and prayers.
Our mission is to help create a place of worship, fellowship, and service, where everyone is welcome to grow in their faith and find a supportive community. Let's embark on this journey of faith and community together!
Stay tuned…
-Sandra Montes-Martinez, WDC Associate Conference Minister (KS-Based)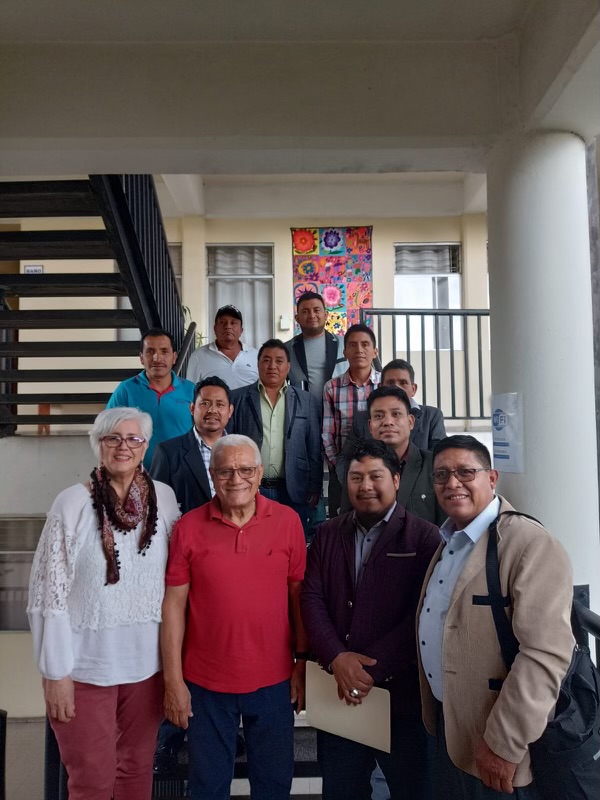 ---
Identidad Única como Plantaciones de Nuevas Iglesias en WDC
La plantación de iglesias es una oportunidad única que Dios puso en nuestras manos como Conferencia para acoger, caminar y nutrir la vida de todos los involucrados. Es un viaje de fe, esperanza y mucha oración por el camino.
Durante nuestra asamblea anual, estuvimos encantados de compartir algunas noticias emocionantes con ustedes: ¡el nacimiento de dos nuevas iglesias plantadas! Iglesia Menonita Casa de Restauración en Houston Texas, e Iglesia Evangélica Menonita Arca de Salvación Uspantan, Guatemala.
Como enlace para la Comisión de Plantación de Iglesias (CPC) en WDC, tengo el honor de servir a nuestras nuevas iglesias en plantación, caminando junto a los pastores y plantadores de iglesias que implementan el Procedimiento Esencial del CPC para desarrollar un proyecto viable. El camino para establecer una nueva comunidad de fe comenzó con una visión: una visión para compartir las Buenas Nuevas de salvación en la comunidad donde se establecerá la nueva iglesia. Esta visión necesita ser alimentada por un grupo de individuos dedicados que sienten un llamado a traer a las personas a la fe y al compañerismo.
Una de las características distintivas de estas congregaciones emergentes es su compromiso de seguir a Jesús y su enseñanza, revelando el amor y la gracia de Dios en su práctica como iglesia. No es solo un lugar para los devotos; Es un espacio para todos los que buscan refugio y restauración.
Permítanme darles una breve descripción de nuestras nuevas iglesias en plantación.
Iglesia Menonita Casa de Restauración, Houston, TX
Presentación de diapositivas de fotos: https://www.youtube.com/watch?v=z9IGSxTSk8k&list=PL6aO7e884ZT7mYMLqLGrSlKWEOuJ5juHG&index=13
Es una comunidad de fe emergente hispana que tiene como objetivo establecer comunidades vibrantes cristianas anabautistas centradas en Jesus en áreas menos privilegiadas en Houston TX. Su misión es llevar el mensaje transformador de esperanza, amor y fe a individuos y familias que buscan conexión espiritual y un sentido de pertenencia. Están haciendo discípulos y enviándolos a invitar a otros a conocer el poder restaurador de la vida del amor de Dios que ellos mismos han experimentado.
La plantadora de iglesias es Aurora Parchmont, quien trabaja junto a su esposo Alberto Parchmont co-pastoreando una de nuestras iglesias WDC Casa del Alfarero en Pasadena TX.
Casa de Restauración está respondiendo a la creciente necesidad de dar un hogar anabautista, un espacio, a muchos latinos en su contexto y cultura única en una de las ciudades más pobladas de Texas.
Dios puso en el corazón de un grupo de hermanos y hermanas el deseo de explorar la posibilidad de reunir a un remanente de anabaptistas que por razones geográficas, lingüísticas o culturales no han encontrado un lugar en otra de nuestras iglesias menonitas en el área. Así es como después de un tiempo de discernimiento y múltiples conversaciones con el personal de WDC, CPC y congregaciones asociadas el 4 de abril de 2022, esta hermosa nueva plantación de iglesia nació.
Son personas con un corazón de servicio y amor, participan en actividades comunitarias y enseñanzas bíblicas, son el pueblo de Dios, que sirve con mucho amor, comida y entusiasmo.
A pesar de los desafíos socioeconómicos de una comunidad inmigrante, a menudo se ven a sí mismos con la oportunidad de ayudar a otros con necesidades financieras. El tamaño o el número no es una limitación para ellos para ayudar a familias que necesitan pagar su alquiler, medicamentos o transporte, y más.
Iglesia Evangelica Menonita Arca de Salvacion Uspantan, Guatemala
Presentación de diapositivas de fotos: https://www.youtube.com/watch?v=7ZSh7nukyy4&list=PL6aO7e884ZT7mYMLqLGrSlKWEOuJ5juHG&index=15
Su misión es establecer una congregación que sea testigo del amor y el cuidado de Dios y una comunidad eclesiástica culturalmente apropiada que brinde apoyo espiritual y teológico, y recursos a los residentes de Villa de Uspantan, Quiché, en el noroeste de Guatemala.
Su enfoque principal será fomentar un ambiente donde las personas y las familias puedan profundizar su fe, encontrar consuelo y contribuir activamente al bienestar de la comunidad local, fomentando la comprensión mutua, el respeto y la tolerancia entre las diferentes culturas.
Esta plantación de iglesias se ha desarrollado en conversación con líderes locales de Arca de Salvación, Iglesia Anabautista Casa de Paz y el CPC que comparten una profunda pasión por difundir el mensaje de fe y construir una comunidad próspera de creyentes.
Arca de Salvación es un regalo para nosotros como Conferencia, iniciaron el 4 de noviembre de 2021, los fundadores: Juan Jesús Toj, Diego Giovanni Carrillo Ixcotoyac, Julio Menchú, Felpe Chamatun, Rolando López, Francisco Hernández, Francisco Herrera, Yobani Ajcot, Salvador Méndez, Lucas Chipel. Ahora forman el Consejo de la Iglesia, representado por 12 ancianos y 2 pastores que dan liderazgo a la iglesia.
La nueva iglesia comenzó con 25 familias y ahora hay 47 familias. En el último año celebraron 18 bautismos, tienen ministerio de jóvenes, mujeres, hombres y flores. Y el comité de construcción del edificio de la iglesia.
La congregación compró tierras, y tienen grandes planes para construir un templo para la iglesia y un centro comunitario donde puedan capacitar a los líderes y servir a la comunidad donde se están estableciendo.
Esta es una colaboración de Casa de Paz nuestra congregación en Guatemala, WDC y con la guía del Espíritu Santo. Heidi y yo nos reunimos con los líderes y la congregación en el verano durante la gira de aprendizaje de Semilla en Guatemala cuando el pastor Gilberto Flores presentó esta vibrante iglesia que le brindó tutoría y apoyo durante más de un año.
Creemos firmemente que este esfuerzo de plantación de iglesias tendrá un impacto transformador en las vidas de las personas y contribuirá positivamente al paisaje misional y cultural de WDC. Estamos ansiosos por fomentar las colaboraciones dentro de la Conferencia para hacer realidad esta plantación de iglesias y marca una diferencia duradera en la forma en que Testificamos, Habitamos y nos Conectamos en la misión.
En nombre de la Comisión de Plantación de Iglesias, presento las nuevas iglesias de Arca de Salvación Uspantan en Guatemala. y Casa de Restauración en Houston TX. Gracias por su apoyo y oraciones
Nuestra misión es ayudar a crear un lugar de adoración, compañerismo y servicio, donde todos sean bienvenidos a crecer en su fe y encontrar una comunidad de apoyo. ¡Embarquémonos juntos en este camino de fe y comunidad!
Estén atentos…
-Sandra Montes-Martinez, Ministra Asociada de la Conferencia de WDC (con base en KS)