Lace up your spiritual walking shoes and take a deep breath—you are about to begin a road trip with the gospel of Luke and the Upside-Down King!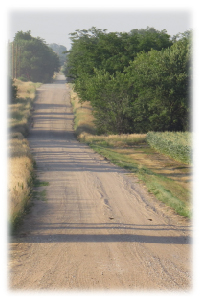 The Upside-Down King musical by Doug and Jude Krehbiel and Carol Duerksen was presented in a number of venues in 2008 and 2009, including the Mennonite Church USA convention in Columbus, Ohio. Lots of people saw it, and we heard that a lot of people loved it. This Bible study is one way that we are continuing to share Jesus' message as found in Luke's gospel. Another way that the musical message is available is for colleges, high schools, churches, or other production groups to produce it themselves. More information on all of this is on the website, upsidedownking.weebly.com, including the full 90-minute production. I encourage you and your group to watch it at some point in this study if possible.
This online Bible study is written as a combination teacher/student package for high school age through adults. When you purchase the package, you can download all of the materials. (This is on the honor system—we trust that you will use them for your class but not share them with the whole world.) Some teachers may prefer to share only the reproducibles with their group, while others may wish to print copies of everything for everyone. It will depend on the group.
Each session features one of The Upside-Down King songs found on the CD that can be purchased on the website, upsidedownking.weebly.com/store.html (please allow 1–2 weeks for shipping). You will definitely want the CD as the songs are important elements in the sessions.
Each session has several sections. It begins with a contemporary story that introduces the Focus. The Open Up section encourages participants to think about the focus in terms of their own lives here and now. The Open the Story section is the commentary—the biblical input. The Open Road Ahead section is the "Now what do we do about this?" portion of the study.
A high school class will enjoy some activities in these sessions, while a class of people in their 80s may not enjoy them so much. Adults may really get into some of the discussions, while high school youth may not be at that point in their spiritual journeys. Bottom line: you know your group and what will and will not work. And here's my offer: If you are teaching a group and you need more suggestions for activities, shoot me an e-mail or Facebook message well in advance of the time you are teaching, and I will try to help out. (I can't promise anything on a Saturday evening for a Sunday morning session.)
I would like to thank the Schowalter Foundation and the Western District Conference for their involvement in this project. Most of all, I want to thank the serendipitous presence of the Holy Spirit, who gifted this study of the gospel of Luke with stories and insights far beyond what I could imagine or hope for. Hallelujah!
–Carol Duerksen, willowspringdowns@juno.com