*Pictured: Iglesia Menonita Monte Horeb, Dallas, TX celebrating multicultural day.
In today's world, places of worship often serve as melting pots of diverse cultures, bringing together individuals from various backgrounds, languages, and traditions as part of our communities. In a culturally diverse church, one powerful common thread is the universal language of gratitude. Gratitude plays a vital role in fostering unity, understanding, and appreciation within such faith communities. In this article, I want to share some of the insights from the Build Bridges initiatives that I experienced and observe while serving congregations in diverse communities.
Embracing Diversity: A culturally diverse community is a microcosm of the global village we live in. People from different walks of life come together to seek spiritual growth and connection. Gratitude, as a unifying force, can help bridge the gaps and create a sense of belonging for all.
Expressing Thanks in Different Languages: One beautiful aspect of cultural diversity is the multitude of languages spoken within the congregation. Gratitude can be expressed in various tongues, creating a harmonious symphony of appreciation. Encouraging members to share their expressions of thanks in their native languages can be a heartwarming experience.
Learning from Each Other: Gratitude in a diverse church is not just about saying "thank you." It's about the genuine desire to understand and learn from one another. Members can share their cultural practices of thankfulness, whether it's a gratitude ritual, a traditional song, or a family recipe. This cross-cultural exchange enriches everyone's lives.
Celebrating Cultural Holidays: Culturally diverse communities often observe a wide range of holidays and traditions. Gratitude can be at the core of these celebrations. Whether it's Thanksgiving, Lunar New Year, or any other cultural celebration, recognizing the importance of these cultural events can foster a sense of togetherness and respect.
Acts of Kindness and Service: Gratitude is not just about words; it's about actions. Encourage your congregation to engage in acts of kindness and service. Volunteer opportunities, charity drives, and support for local and international causes can provide meaningful outlets for expressing gratitude.
Interfaith Dialogues: Many culturally diverse communities bring together individuals from different faiths. Interfaith dialogues on the topic of gratitude can help members explore the common ground and shared values in their beliefs, promoting mutual understanding and respect.
Fostering Inclusivity: Gratitude extends beyond cultural differences. It also encompasses physical abilities, gender, age, and economic status. Emphasize the importance of making all individuals feel welcome and valued within the church community. This inclusivity creates an environment where gratitude can thrive.
Teaching Gratitude to the Youth: The younger generation in culturally diverse churches can be particularly receptive to the message of gratitude. Organize youth programs that educate them about the value of thankfulness and encourage them to embrace and celebrate diversity.
In conclusion, gratitude in culturally diverse communities are a powerful force that can bring unity, understanding, and appreciation to the congregation effort to reach out to our neighbors and within the church. By embracing the diversity, expressing thanks in different languages, learning from one another, celebrating cultural holidays, and engaging in acts of kindness and service, the church as faith communities can truly build bridges of thankfulness, fostering a spirit of unity and love that transcends cultural boundaries. Gratitude becomes the glue that binds the congregation together in a tapestry of faith, hope, and love.
-Sandra Montes-Martinez, WDC Associate Conference Minister (TX-Based)
More photos of Iglesia Menonita Monte Horeb, Dallas, TX celebrating multicultural day: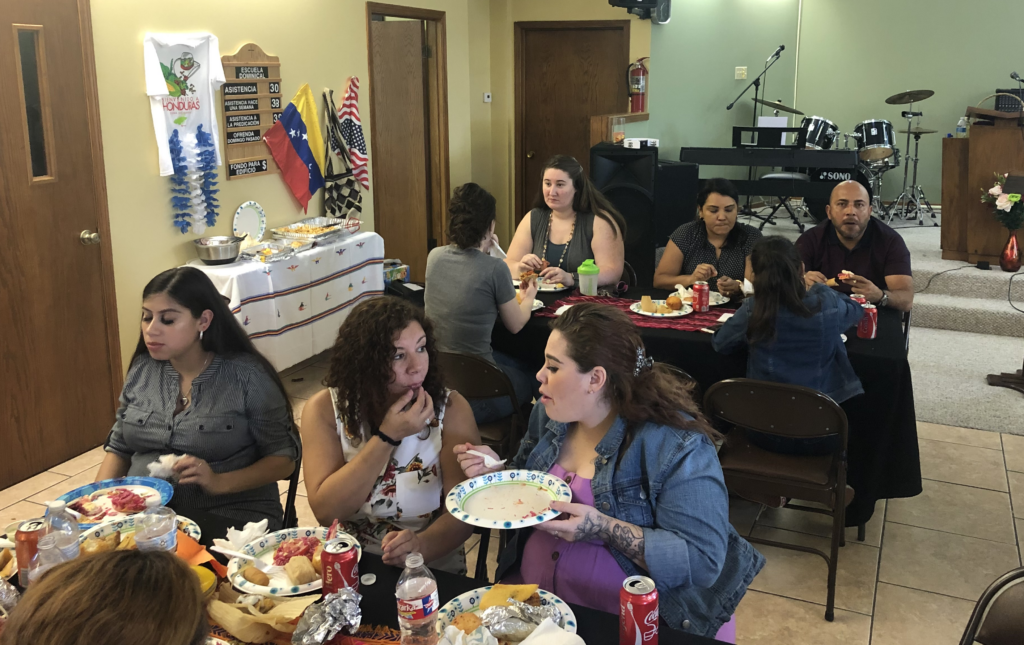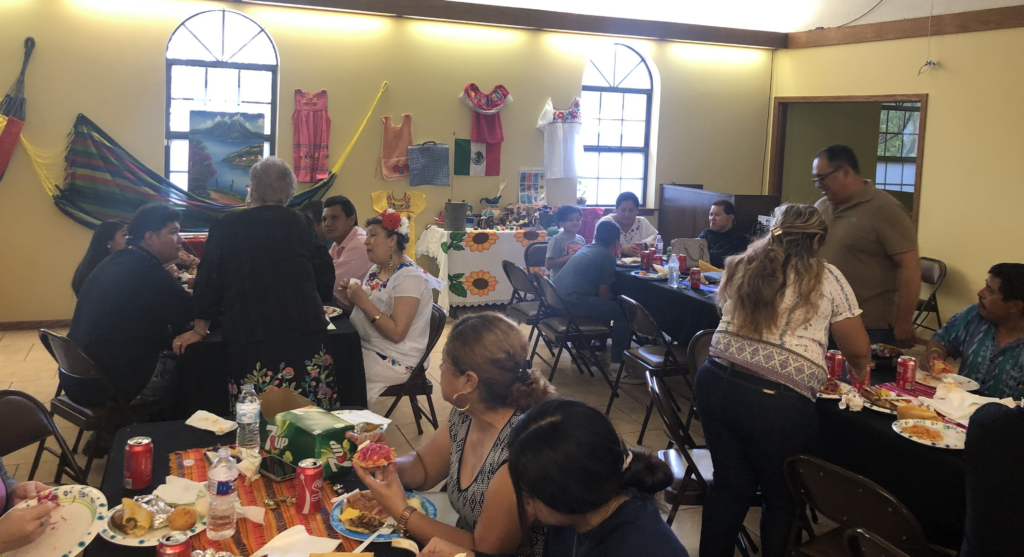 ---
Cultivando Gratitud en una Iglesia Culturalmente Diversa: Construyendo Puentes de Agradecimiento
*En las fotos: Iglesia Menonita Monte Horeb, Dallas, TX, celebrando el día multicultural.
En el mundo actual, los lugares de culto a menudo sirven como crisoles de diversas culturas, reuniendo a personas de diversos orígenes, idiomas y tradiciones como parte de nuestras comunidades. En una iglesia culturalmente diversa, un poderoso hilo común es el lenguaje universal de la gratitud. La gratitud desempeña un papel vital en el fomento de la unidad, la comprensión y el aprecio dentro de estas comunidades de fe. En este artículo, quiero compartir algunas de las ideas de las iniciativas de Construir Puentes que experimenté y observé mientras servía a congregaciones en diversas comunidades.
Aceptar la Diversidad: Una comunidad culturalmente diversa es un microcosmos de la aldea global en la que vivimos. Personas de diferentes ámbitos de la vida se unen para buscar el crecimiento espiritual y la conexión. La gratitud, como fuerza unificadora, puede ayudar a cerrar las brechas y crear un sentido de pertenencia para todos.
Expresar Agradecimiento en Diferentes Idiomas: Un aspecto hermoso de la diversidad cultural es la multitud de idiomas que se hablan dentro de la congregación. La gratitud puede expresarse en varias lenguas, creando una sinfonía armoniosa de aprecio. Animar a los miembros a compartir sus expresiones de agradecimiento en su lengua materna puede ser una experiencia reconfortante.
Aprendiendo Unos de Otros: La gratitud en una iglesia diversa no se trata solo de decir "gracias". Se trata del deseo genuino de entenderse y aprender unos de otros. Los miembros pueden compartir sus prácticas culturales de agradecimiento, ya sea un ritual de gratitud, una canción tradicional o una receta familiar. Este intercambio intercultural enriquece la vida de todos.
Celebración de Festividades Culturales: Las comunidades culturalmente diversas a menudo observan una amplia variedad de festividades y tradiciones. La gratitud puede estar en el centro de estas celebraciones. Ya sea el Día de Acción de Gracias, el Año Nuevo Lunar o cualquier otra celebración cultural, reconocer la importancia de estos eventos culturales puede fomentar un sentido de unión y respeto.
Actos de Bondad y Servicio: La gratitud no se trata solo de palabras, se trata de acciones. Anime a su congregación a participar en actos de bondad y servicio. Las oportunidades de voluntariado, las campañas de caridad y el apoyo a causas locales e internacionales pueden proporcionar salidas significativas para expresar gratitud.
Diálogos Interreligiosos: Muchas comunidades culturalmente diversas reúnen a personas de diferentes religiones. Los diálogos interreligiosos sobre el tema de la gratitud pueden ayudar a los miembros a explorar los puntos en común y los valores compartidos en sus creencias, promoviendo la comprensión y el respeto mutuos.
Fomentar la Inclusión: La gratitud se extiende más allá de las diferencias culturales. También abarca las capacidades físicas, el género, la edad y la situación económica. Enfatice la importancia de hacer que todas las personas se sientan bienvenidas y valoradas dentro de la comunidad de la iglesia. Esta inclusión crea un entorno en el que la gratitud puede prosperar.
Enseñar Gratitud a los Jóvenes: La generación más joven en iglesias culturalmente diversas puede ser particularmente receptiva al mensaje de gratitud. Organice programas para jóvenes que los eduquen sobre el valor del agradecimiento y los anime a aceptar y celebrar la diversidad.
En conclusión, la gratitud en comunidades culturalmente diversas es una fuerza poderosa que puede traer unidad, comprensión y aprecio al esfuerzo de la congregación para alcanzar a nuestros vecinos y dentro de la iglesia. Al aceptar la diversidad, expresar agradecimiento en diferentes idiomas, aprender unos de otros, celebrar festividades culturales y participar en actos de bondad y servicio, la iglesia, como comunidades de fe, puede realmente construir puentes de agradecimiento, fomentando un espíritu de unidad y amor que trascienda las fronteras culturales. La gratitud se convierte en el pegamento que une a la congregación en un tapiz de fe, esperanza y amor.
-Sandra Montes-Martinez, Ministra asociado de la conferencia de WDC (basado en TX)